°

"The 70 Weeks of Daniel"
Contiguous / Unbroken
°
°

"The 70 Weeks of Daniel"
Contiguous / Unbroken
°
13. "...to make reconciliation for iniquity"; Mission Accomplished!
13a. The Shed Blood of Jesus, the Messiah
Without question, we who have salvation from the wrath of God, have it by the shed blood of the Messiah who gave Himself for us on a cruel Cross, thereby making reconciliation for our iniquity.

Romans 5:10
For if, when we were enemies, we were reconciled to God by the death of his Son, much more, being reconciled, we shall be saved by his life.
(Notice how the term "enemies" is used matching perfectly with the Messiah's 1st accomplishment of ending the "transgression" i.e. rebellion)

2 Corinthians 5:18
And all things are of God, who hath reconciled us to himself by Jesus Christ, and hath given to us the ministry of reconciliation;
(Notice how we are to be preaching reconciliation in the PAST TENSE, not as some future event that has not happened yet, as some teach.)

Colossians 1:21
And you, that were sometime alienated and enemies in your mind by wicked works, yet now hath he reconciled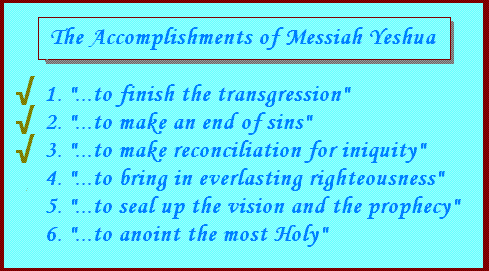 ---